We are excited that you are here learning more about how to navigate Bethel.TV. Here are some quick notes for you in hopes to make it easy. If you still have questions, please don't hesitate to contact us at contact@bethel.tv.
Top Navigation Bar
Subscribe
While you are signed in, this is a place that you can either sign up or sign in.
Home
You will find some of the most common categories on this page.
Browse
This is another way that you can browse our content.
Give
Giving on Bethel.TV declares your belief in the power of media and technology to advance the Gospel. Your gift allows us to provide more free access to media. We believe your tithes belong to your local church. Any gift beyond that is received with thankfulness.
Media Store
This is a central location of our content that is purchasable. Depending on your plan or the specific content, you will be able to watch it or purchase the specific content by clicking on it.
Upcoming
You will be able to view the scheduled livestreams.
My List
This is where you can find all of your purchased content.
Search
You can utilize this box to search for words, speakers, phrases etc.
My Account (Person Avatar)
This is where you will be able to view your account details and make changes.
Home Page
Our Home Page is intended to help you find quick information.
Banners
You will see at the top the rotation of a variety of banners. These will typically be the most recent services and worship as well as any events/ecourses etc that we would like to highlight for you. Once you click on watch now, you will be taken to that specific content to watch or purchase based on your plan.
Livestreams
This section is intended to be another quick way to access sermons and worship. You will also know when we are live by the "We're Live" tile that appears at the front of the rail. Simply click on the tile of the content you would like to view and it will take you either to the live page or the sermon/worship pages to view post sermons/worship sessions.
Speakers and Worship Leaders
Sometimes the Father speaks to us through certain speakers or worship leaders. These sections allow you to view the content that relates to each speaker/worship leader. Once you click on the speaker/worship leader. you want to view, you will be able to see the content that the speaker/worship leader. appears in and will be able to view the content based on your plan.
Events
This section represents the streamed events that have happened at Bethel. Depending on your plan, you will be able to access the content or you can purchase a single event if you would like. The events with a $ under the year were special events by ministries and are not included in any plan however just like the others you can purchase it as a single event if you would like.
E-Courses
Are you looking to be trained on a specific topic? Did you purchase one of our speakers books and want to go deeper? This section is a list of ecourses from publishers that you can purchase and go deeper in your walk with the Father. Click on any of the ones you want to watch and you will be taken to the page to purchase them.
Shows or Classes
We have a variety of shows and classes to help you learn more about Bethel as well as grow deeper in your connection with Jesus. These range from short content like our Inspire and Seeds shows to our Holy Spirit Series and Power of Jesus classes. Simply click on any of them you would like to watch and if are on a plan that has the shows and classes a part of it.
Testimonies
We believe that the testimony of Jesus is the spirit of prophecy! So we celebrate every testimony and declare with confidence, "do it again God!!" Do you need to be encouraged today and need to claim someone else's testimony? Click on one of the testimonies to receive some hope today.
How do I watch live?
When you are on the home page, a tile will appear that says "We're Live" or you can use the top navigation bar to go to Upcoming and you will see it there.
My Account
Membership & BIlling
In this section you can change your user and payment details.
Current Plan
This is where you can change the plan that you are subscribed to.
Customer Service
If you have an issue that you need to report to Bethel.TV you can enter your request here.
How do I change my Password
From the login page, click the "Forgot Password?" under the Login button.
You will receive the below. Enter your email and press "Send Email". A link will be sent in an email for you to reset your password. If you don't receive it in your in box, check your spam box.
How to find past Sermons/Worship
After you login to the account, go to the top navigation bar and select browse. From there you can select either Sermons, Speakers, Worship, Worship Leaders, Testimonies and Events. Select what you would like to view. In this example, I chose Sermons.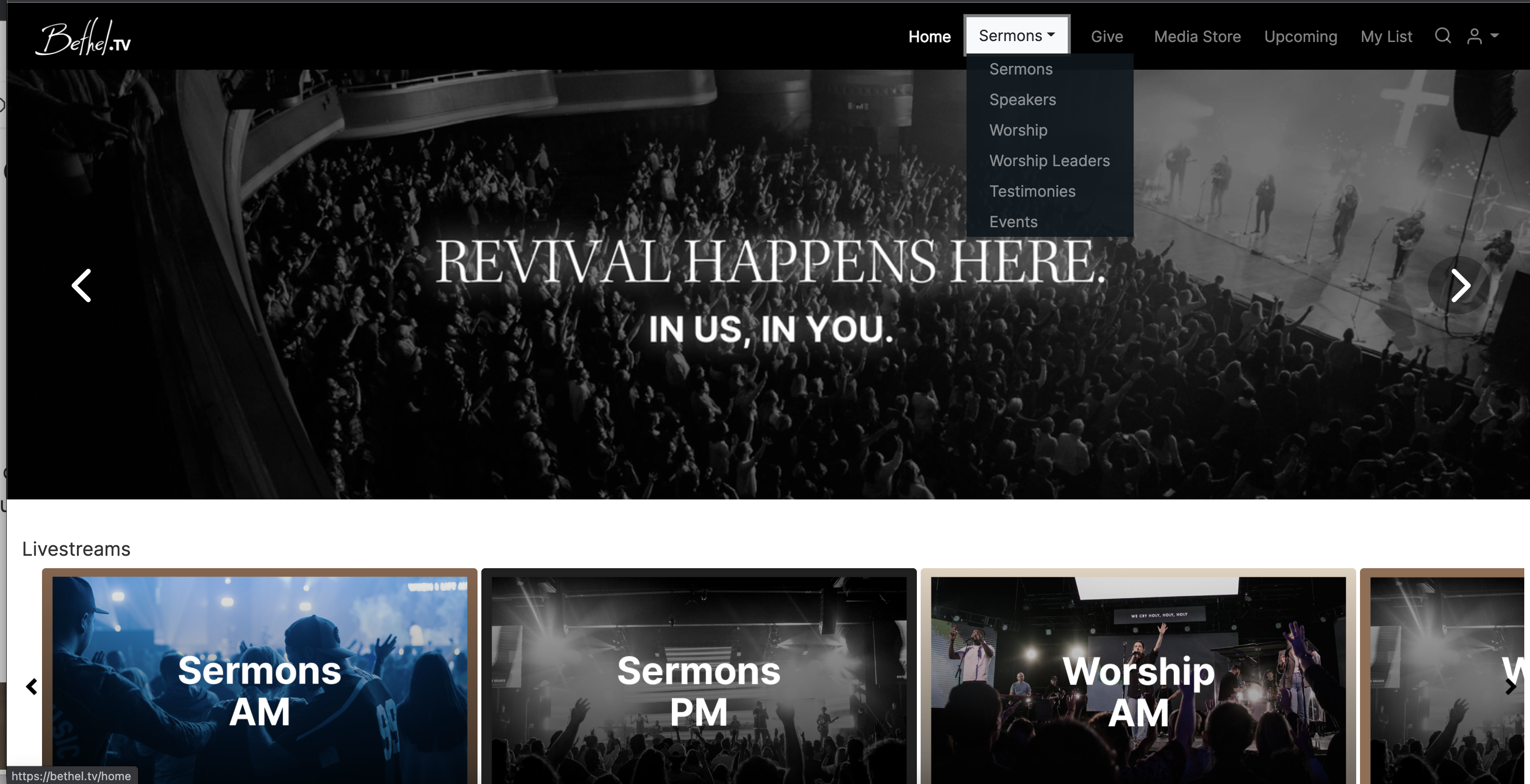 Once you select Sermons, the below will appear and you can see the content is separated by year. Click on the year of the content you would like to view.
Once you click on the year grouping, you will see each month represented in different rows. Simply click on the video that you would like to watch. Once you click on it, it open big on your screen.